The Mopar Site Award is open to all Mopar sites. All sites will be reviewed by our panel of judges. If your site is awarded the Mopar Site Award you will be E-mailed your award in about 3 days and your site will be added to our award winners page with a link to your site. All we ask is that you link the award back to Moparland.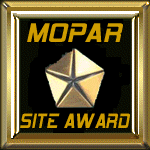 The rules for the Outstanding Car Site Award are the same as the Mopar Site Award but is open to all car sites. Mopar sites may apply for both awards but must be applied for separately.

CRITERIA FOR WINNING THESE AWARDS

Site must be suitable for all ages. No nude, obscene or vulger material.

Site must have content. Not just a photo of your car and a couple of links.

Site must have good navigation. Our judges should not have to use the back button on their browser to get around your site.

Site must be quick loading. Our judges can not review your site if it takes 3 days to load.



Fill out the form below and submit it. If your E-mail does not handle forms use the E-mail at the bottom of the page. Send all the information that is on the form.
All winning sites will be listed and linked on the award winners page when they put the award on their site and link it back to Moparland.